Company Overview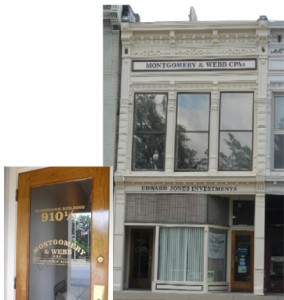 Montgomery & Webb, P.S.C., Certified Public Accountants, has been in continuous existence as a public accounting firm since 1960, established by the late Charles E. McDonough.  We are a locally owned accounting firm with offices in Bowling Green and Russellville, Kentucky.  With over 50 years of service to our community we are dedicated to long-term relationships with our clients.  To us our clients are not just information in a file, we strive to offer services that are personalized to fit your needs and unique circumstances.
Accountants provides a broad range of accounting, tax and consulting services.  Services offered include, but are not limited to, payroll services, monthly accounting services, compilation, review and audit services to both individuals and business entities, computer consulting services, personal financial planning, tax compliance services for both individuals and business entities, tax planning services, and management consulting services. Our dedicated professionals will listen to your needs and provide personalized solutions for you at an affordable price.
Please explore our website for an overview of us and our SERVICES.
Contact us with any questions or to schedule an appointment at either our Bowling Green or Russellville locations.

Bowling Green, Kentucky Office
Address: 910 1/2 State Street,
Bowling Green, Ky 42101
(270) 842-4239 (Phone)
(270) 842-4230 (Fax)

Russellville, Kentucky Office
Address: 811 West 9th Street,
Russellville, Ky 42276
(270) 726-3293 (Phone)
(270) 726-3290 (Fax)